We Nurture
We are here for your baby's well-being and your peace of mind.
One of the most common issues parents call pediatricians about is the all-too-common diaper rash. Our purpose and promise at Parasol is "No More Diaper Rash." By engineering a diaper that keeps rash-causing moisture locked down away from baby's sensitive skin, Parasol parents report no more redness, irritation or bumps... just clear, healthy skin. Without the discomfort of diaper rash, babies and toddlers are free to move, to do what they're naturally wired for—to discover their world with endless curiosity one touch, one sound, one taste, one word, one crawl, step and stumble at a time.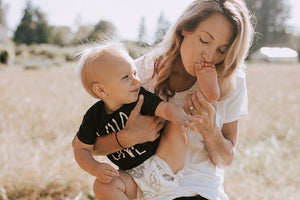 Diaper Rash 101 - What It Is and Causes
What is diaper rash in babies?
Diaper rash is the inflamed skin, known as dermatitis, that appears in the area of the baby's bottom. The skin is characterized by having a red coloration and with broken up skin that almost looks like scales.
What causes diaper rash?
Diaper rash is caused by multiple reasons, with the most common being the prolonged exposure of the skin to moisture from urine and feces. Other reasons may include:
Chafing, rubbing or irritation  - Often caused by diaper friction
Bacteria or Yeast Infection  - If the baby has been undergoing antibacterial treatment or nursing from a mama taking antibiotics (this leads to a loss of the protective bacteria that prevent yeast growth).
Allergies or reactions from irritants - Which could be present in the ingredients found in diapers, wipes, soaps and laundry detergents.
When a baby urinates, the urine begins to naturally decompose into multiple compounds, many of which may cause irritated skin and begin to cause a rash. For a rash to develop, the skin needs to be exposed for prolonged amounts of time to a wet diaper. Exposing the skin to feces will expose the skin to irritating compounds and bacteria as well. While urine by itself will cause a diaper rash, the real threat is the combination of urine and feces, or runny feces. This combination is the number #1 enemy of a parent, and the best course of action is to remain vigilant for when to change the diaper.
Tips to Avoid a Diaper Rash
Changing diapers often to limit exposure
Applying protective ointment and barrier cream
Washing the skin of the baby after every change
Making sure the area is dry before putting on a new diaper
These are all good ways of preventing a rash from happening or developing.
How long does diaper rash last?
A diaper rash should heal quickly, in 3 to 4 days with the application of over-the-counter medication. If a diaper rash persists for longer than 4 to 7 days under treatment, then parents should consult a doctor. Other things to keep a lookout for are the appearance of yellowish crusts, pus draining from the skin or the appearance of a fever.