Natural Diaper Subscription & Membership
Simply purchase a $159 $84 VIP Membership Box for your favorite little VIP.
Plus, enjoy 20% off all other Parasol products for life.
3 Giant Diaper
Packs
$108.00 $84.00
4 packs wipes
(240 ct)
$19.00 FREE
2 Friend Diaper
Gift Packs
$32.00 FREE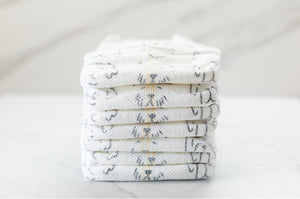 Clear+Dry™ Natural Disposable Diapers
No more diaper rash …keep baby's skin clear and dry with the first and only diapers with RashShield™ protection for sensitive skin. Super absorbent, super soft, super lightweight fabrics instantly wick moisture and humidity away from skin, locking it layers down to prevent irritating rash. Naturally breathable fabrics keep baby feeling fresh and airy, day and night. High waistband with soft 8-strand stretch contours to all body types for a secure but comfy fit that moves with baby without pinching or leaving red marks.
Diaper Features:
RashShield™ protection from diaper rash
High-rise waist
8-strand retractive waistband elastic
Super absorbent
Highly breathable
Ultra-thin core
Dermatest® Excellent Seal
Hypoallergenic
Only water-based inks
Made without these harmful ingredients Chlorine, alcohol, dyes, chemicals, fragrances, lotion, parabens, phthalates, preservatives, latex, heavy metals .
Radically Transparent
We believe our customers have a right to know how much their baby products cost to make. Here is the Parasol cost breakdown…
$9.60
Container +
Importing
$4.45
Warehousing +
Fulfillment
The total true cost of the VIP Membership Box is $67.20. Traditional retail cost would charge $159 per box but our VIP MEMBERS only pay $84.
BASIC SUBSCRIBER
Basic Subscribers are customers whose baby diapers subscription consist of 1-2 pack orders only.
✓ Customize Delivery
✓ Cancel Any Time
✓ Free Shipping
✓ Diaper Subscription Service


Benefits of Monthly Diaper Subscription Service


♡ No more "Aha!" Moments
♡ Managing your diaper needs at your fingertips
♡ Most comfortable eco-friendly diapers that are safe for baby's skin.
♡ Bye Bye Diaper Rash!
VIP MEMBER
Instantly become a VIP Member for
life when you purchase a Parasol
3-pack diaper subscription box.
✓ Customize Delivery
✓ Cancel Any Time
✓ Free Shipping
✓ Diaper Subscription Service
✓ Save 45% with 3-pack diaper subscription box
✓ Free Baby Wipes, 240 ct ($19 Value)
✓ Share Free Friend Gifts ($32 Value)
✓ Save 20% Plus on All Products
✓ Apply Extra Discounts
✓ No Annual Membership Fee
✓ Lifetime Membership
✓ Lowest Price
Start your VIP Membership Box Order
Choose Your Size
You'll automatically receive monthly VIP Membership savings at Checkout.
"I was looking for a cleaner disposable diaper option, and I am really glad we found these! We loved our free-trial and ended up ordering the membership box. The baby wipes are best in class! My friends loved the free gifts, super cute and thoughtful."
Frequently Asked Questions
What collections are in the membership box?

For the diapers it's our Furry Pets and Leaf prints.

Can I buy a membership box for diaper pants instead of diapers?

Not at the moment, right now the membership box is only available for 3-Pack diapers + Wipes.

Is there a fee for the membership?

There are no fees at all, you are only charged once a box order is created. Once you're a member, you're a member for life.

Can I cancel my membership?

Because there are no fees you can cancel your subscription at any time and still stay a member.